25 June, 2019
Air filtration is a simple concept; but in order to get the best performance from your engine, and the most out of your air filter, there are a few other technologies worth being aware of. From precleaners to advanced media innovations, this article will take you through a few of the Fleetguard solutions designed to help lower your total cost of ownership.
The first is Fleetguard Magnum media. Every filter has a given surface area in which to capture and retain contaminants. Fleetguard Magnum filters fit in more media than traditional air filters, providing greater surface area for trapping particles. Greater surface area means greater capacity, which results in longer service intervals and reduces the need for filters to be changed as often. Consequently, Fleetguard Magnum helps to reduce downtime and lower an engine's total cost of ownership (TCO). Magnum filter upgrades are identified by the "M" suffix on the end of the part number. Many Fleetguard air filters are available with Magnum upgrades.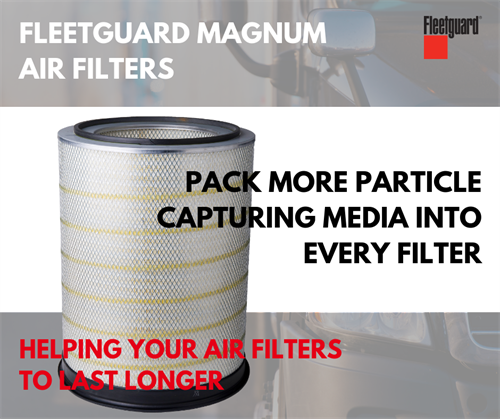 Next are precleaners. Precleaners are an air filters best friend. They help reduce the contamination load of an air filter by removing particles before they get to the element. Fleetguard Sy-Klone precleaners are an ejective type precleaner, that require zero maintenance. They provide high efficiency removal of larger particulates that would otherwise contribute to more rapid blockage of an air filter element. Precleaners work to extend service intervals, reducing downtime and TCO. 
You can see how they work here: https://www.youtube.com/watch?v=_6AxqFVipbA
To find out more about air filtration precleaners visit: https://www.cumminsfiltration.com/south-pacific/air-intake-filter-precleaners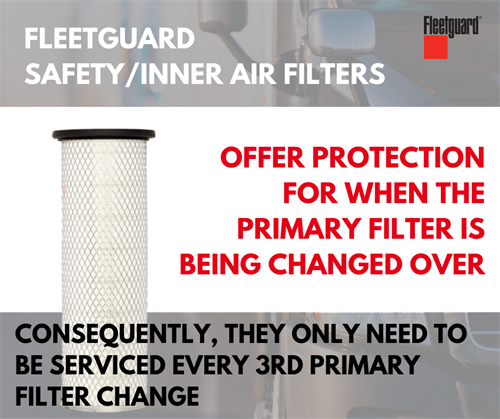 The third technology is the humble restriction indicator. Often overlooked, this small but important accessory is very useful in determining when a filter needs changing, allowing you to service only when necessary, and never prematurely. Restriction indicators ensure you get the longest possible life out of your air filters and therefore prevents you from wasting time and money on unnecessary servicing.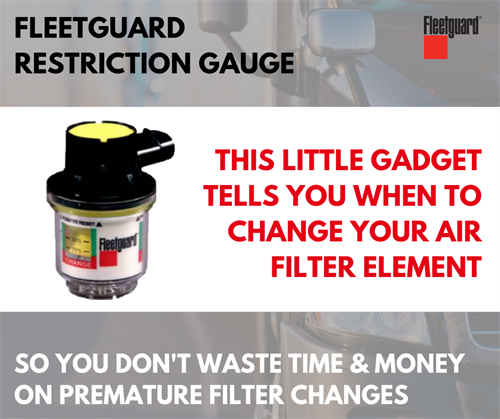 Finally, it is worth noting the important role of the safety element; also referred to as the secondary or inner element. If your air filtration system is fitted with one of these, you only need to change it every third primary filter element change. This is because all of the hard work is done by the primary filter, and typically, the safety element should see very little contamination. Generally, the only contamination that the safety element faces, is what falls off the primary element during a service. By ensuring safety elements are changed on this basis, you save on parts and labour, lowering TCO.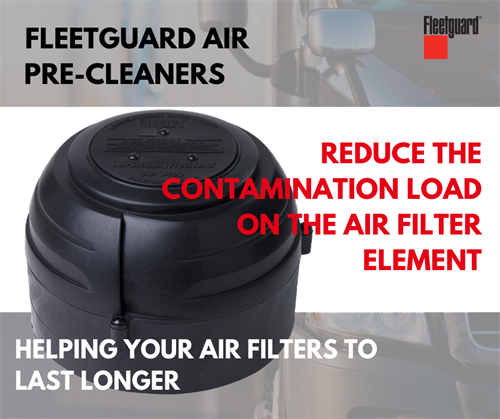 We know that every second a truck is off the road, or a machine is out of action, is lost revenue for your business. Whilst the best air filtration is important, it's never a bad idea to explore the other options available to assist in lowering your total cost of ownership and keeping your engine running as often as possible. A Fleetguard filter is only part of our solution. To find out more contact us on 1300 442 142 or contact us.
Quick

Order
Quick

Quote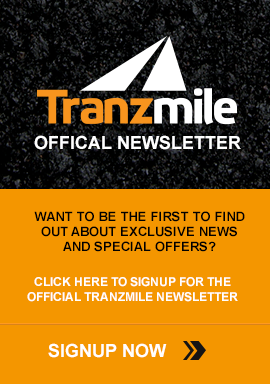 Need

Help?

For all sales enquiries

call (07) 33 444 156

or contact us