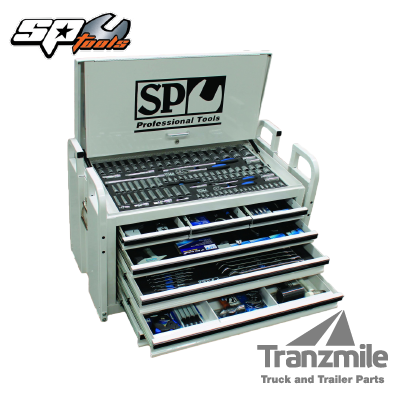 SP Tools 406pc Metric/SAE Custom Series Field Service Tool Kit - White
Product Code: SP50115W
Brand: SP Tools
Available Sizes: Coming Soon
Min Order: 1
Description

FEATURES:
• All sockets, socket accessories and ring open end spanners come in hi-density foam tool storage system (EVA).
• Chrome Vanadium steel for high durability.
• Flat drive technology to maximize grip.
• High polish finishes to provide easy clean-Up.

Custom Series Tool Cabinet Features:
• SP Cliklok drawer locking system ensures drawers stay closed and secure.
• Extra heavy duty ball bearing slides.
• Full roll cage protection.
• Drop front security panel.
• Skid rail base to provide reinforcement and extra protection.
• Dual gas strut lid stays.
• Robust wall construction.
• Full drawer extension capability.
• Double powder coating resists scratching.
• Maxi Drawers Featuring 400mm Depth.
KIT INCLUDES: 
1/4"Dr 12pt Sockets & Accessories
• 4, 5, 6, 7, 8, 9, 10, 11, 12 & 13mm
• 3/16, 7/32, 1/4, 9/32, 5/16, 11/32, 3/8, 7/16 & 1/2"
• 45T Ratchet, Flex Handle & Universal Joint
• Extension Bars - 50 & 150mm
3/8"Dr 12pt Sockets & Accessories
• 6, 7, 8, 9, 10, 11, 12, 13, 14, 15, 16, 17, 18, 19, 20, 21 & 22mm
• Deep - 10, 11, 12, 13, 14, 15, 16, 17, 18 & 19mm
• 1/4, 5/16, 3/8, 7/16, 1/2, 9/16, 5/8, 11/16, 3/4, 13/16 & 7/8"
• Deep - 5/16, 3/8, 7/16, 1/2, 9/16, 5/8, 11/16 & 3/4"
• Spark Plug Sockets - 5/8 & 13/16"
• 45T Ratchet, Flex Handle & Universal Joint
• Extension Bars - 75 & 150mm
• Adaptors - 3/8Fx1/4M & 3/8Fx1/2M
1/2"Dr 12pt Sockets & Accessories
• 10, 11, 12, 13, 14, 15, 16, 17, 18, 19, 20, 21, 22, 23, 24, 26, 27, 30 & 32mm
• 3/8, 7/16, 1/2, 9/16, 5/8, 11/16, 3/4, 13/16, 7/8, 15/16, 1,1-1/16, 1-1/8, 1-3/16 & 1-1/4"
• Spark Plug Sockets - 5/8 & 13/16"
• 45T Ratchet, Flex Handle & Universal Joint
• Extension Bars - 75, 125 & 150mm
• Adaptor - 1/2Fx3/8M
Wrench/Spanners
• Combination ROE - 6, 7, 8, 9, 10, 11, 12, 13, 14, 15, 16, 17, 18, 19, 20, 21, 22, 23, 24, 25 & 26mm
- 1/4, 5/16, 3/8, 7/16, 1/2, 9/16, 5/8, 11/16, 3/4, 13/16, 7/8, 15/16 & 1"
Tools
• Screwdrivers - 3.0x75, 5.5x100, 6.5x25, 6.5x100, 6.5x150 & 8.0x175mm
- #0x60, #1x80, #2x25, #2x100, #2x150 & #3x175MM
• Precision - 2.0x50, 2.5x50, 3.0x50, #0x50, #00x50 & #000x50mm
• Impact Driver Set - Impact Driver 5, 6, 8, 9, #1, #2, #3, #4, Inhex 4, 5, 6 & 8mm
• Magnetic Hex Keys - 1.27, 1.5, 2, 2.5, 3, 4, 4.5, 5, 5.5, 6, 7, 8 & 10mm 
- 0.05, 1/16, 5/64, 3/32, 1/8, 9/64, 5/32, 3/16, 7/32, 1/4, 5/16 & 3/8"
- TORX -  T10, T15, T20, T25, T27, T30, T40, T45 & T50
• Hex Keys - 1.5, 2, 2.5, 3, 4, 5, 6, 8 & 10mm
- 1/16, 5/64, 3/32, 1/8, 5/32, 3/16, 1/4, 5/16 & 3/8"
- TORX - T10, T15, T20, T25, T27, T30, T40, T45 & T50
• Pliers - Combination, Long Nose, Locking, Multigrips and Circlips (4)
• Cutters - Diagonal
• Adjustable Wrenches x 4, Adjustable Join Pliers
• Hammers - Ball Pein x 3, Dead Blow, Soft/Hard Head
• Bit Set - 67pc
• Ratchet Bit Set - 31pc
• Pin Punch & Chisel Set - 10pc
• Hacksaw, Retractable Knife & Tape Measure
• Telescoping Inspection Mirror and Pick-Up Tools
• Magnetic Parts Tray & Tool Box Drawer Trays x 3
• Circuit Tester & Digital Multimeter
• Screw Extractor - 5pc & Pick Set - 4pc
• Pry Bar Set - 4pc, Tweezer Set - 4pc
• Thread File - Metric/SAE
• 7 Drawer (890w) Offroad Steel Tool Box
DIMENSIONS:
7 Drawer Custom Series Field Service Tool Cabinet - 890w x 510d x 615h
• 3 Drawers 225w x 405d x 45h
• 1 Drawer 740w x 405d x 45h
• 3 Drawers 740w x 405d x 70h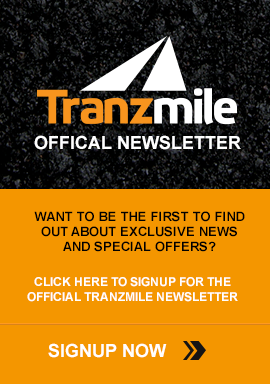 Need

Help?

For all sales enquiries

call (07) 33 444 156

or contact us