Nortrans' Western Star 4864
The Battle family has earned a place in Queensland road transport history. Warren Aitken travels to Townsville to discover the heritage behind Nortrans.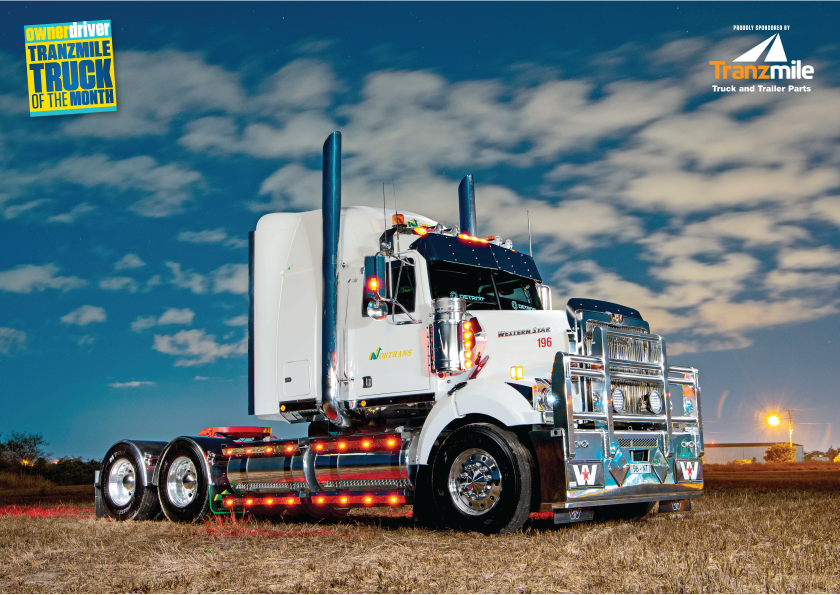 Story Courtesy of Owner Driver
Read the article on Owner Driver here
Warren Aitken writes
There are certain occurrences in all of our lives that we all find comfortable and relaxing, times that are just fun, amusing and uncomplicatedly enjoyable. That first sip of beer after a long day, watching the All Blacks beat the Wallabies again or when you add the last lick of tyre shine after cleaning the truck.
I can now add another moment to my list of highly enjoyable occurrences – sitting in the Townsville offices of Nortrans with father and son team Rodney and Kent Battle. Learning about how the family have toughed out eight decades in the toughest industry, travelling some of the toughest roads with some of Australia's toughest trucks.
Throughout the hour or so of the interview I had the privilege of learning a lot about the man who started the whole thing, Rodney's father Arthur Battle and his lovely wife Eileen who not only helped Arthur run the show, but apparently made the great Norgate milkshakes when the family had their own twenty-four-hour servo in Townsville.
The interview also included a fair bit of banter between father and son, and brother-on-brother ribbing as youngest son Seeton, who runs the workshop, stopped by for what Kent claims is his "three words a day max". Obviously it included a couple of digs at my Kiwi heritage. There was also some customer problem solving as well as introductions to the many friendly staff who stuck their heads in with day-to-day issues of Nortrans Townsville.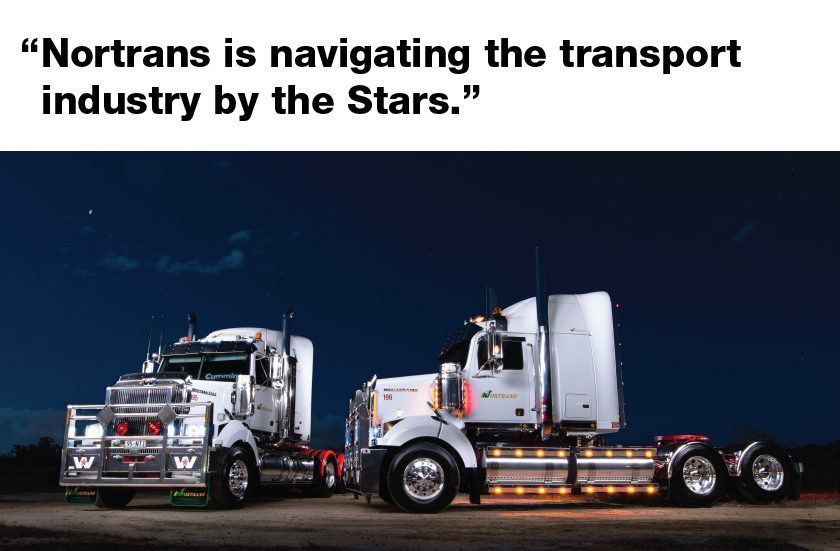 MILK RUN
The original seeds of Nortrans began in 1945 as Malanda Milk Transport Company. It was started by Arthur as a way of getting the milk from Malanda to Townsville quicker than the only other option at the time, the train. Apparently the two-day trip by train must have been resulting in some pretty funky tasting lattes, so Arthur started carting it by road and getting the milk in just a one-day trip. Before he knew it, it wasn't just milk. Arthur also formed a relationship with Tancred Brothers Meatworks and the company became Norgate Transport Industries.
In 1969 Norgate Transport brokered its first contract with Commonwealth Industrial Gases (CIG). This relationship would become the backbone of the business. Thirty-nine years after that first one-page contract had been signed, Norgate has become Nortrans and CIG has become the BOC Group, but the relationship is still going strong.
The gas deliveries were an easy add-on to Norgate's expanding distribution area. With trucks already running throughout Queensland and up to Darwin it worked well.
Norgate's coverage area became nationwide throughout the '70s. Helped by the export crisis in 1974 and subsequent plummeting beef prices, Norgate found itself running fridge vans of meat and produce as far as Perth and Adelaide. The fleet swelled to around 40 fridge vans by the 1980s.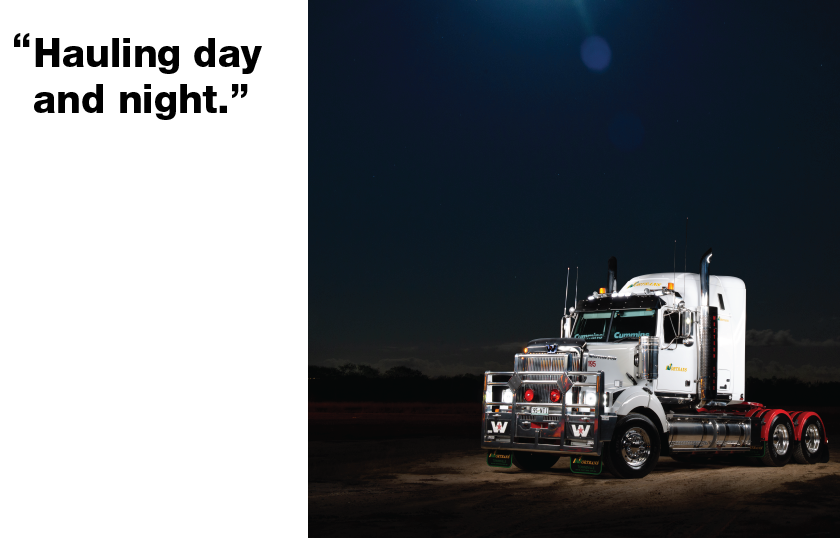 Before we get into the changes to the industry of the late '80s, it's worth noting here a little about the character of Arthur Battle. It's fair to say Arthur had some innovative ideas for his time. His grandson Kent testifies, "He had some great ideas! He had some shockers too." Either way Arthur was never afraid to give something ago.
He took trucks into areas that they shouldn't have gone and he hooked up configurations that would have given a health and safety officer a coronary. It didn't always work.
Rodney's statement of "Yeah, we've wrecked a few," is backed up as we flip through the old photo albums to see picture evidence of past adventures. There were photos of Arthur's ex-US Army six-wheel drive Diamond Reo with a set of duals on the steer to help it tow trucks through swamp country. The truck had seen action in the Philippines' during WWII.
There are photos of the two tri-drive cab-over Kenworths with double road trains as well as the twin steer tri-drive Kenworth with 5-axle dog that Arthur reportedly bought just to "confuse the f***in scaleys".
True or not, Arthur's been at the cutting edge of innovation since he first wanted his fresh milkshakes back in 1945. It's a trait that is evident through the Battle generations.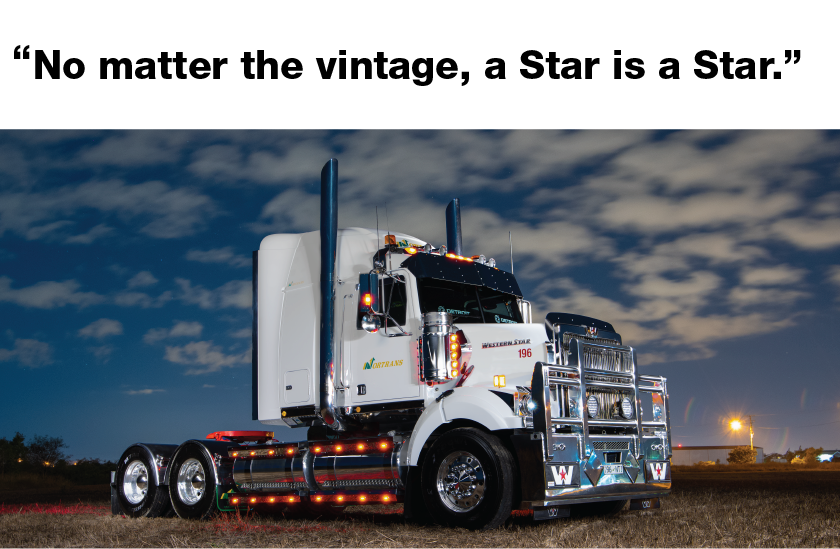 BATTLE HARDENED
Their forward thinking was never more evident than in the late 1980s when they approached MaxiCube about the idea of building the first refrigerated B-double combination. Permit 0001 allowed Norgate Transport Industries to leave Brisbane on October 1, 1987 with Queensland's first B-double combination. The A-trailer at the time had slide-away suspension, meaning you'd apply the brakes, throw it in reverse and back her up.
Arthur's son Rodney, the man keeping me thoroughly entertained in his office, came into the fold around 1968. He spent nearly a decade behind the wheel before turning his hand to the operations side of the business. As we glance through the photo albums he points out the Kenworth road train he and fellow driver Mick Vickers hot-shotted up to Darwin after Cyclone Tracy in 1974.
"We were the first truck in after the cyclone," Rodney says, "We had to go into Tennant Creek, I think, to get inoculated which made us both sick as dog."
Another photo showing a road train in a mud bath reveals the time Rodney and Arthur flew out to a bogged truck west of Julia Creek. They seconded a couple of passing Land Rovers and dragged him out "the bitumen stopped at Hughenden in those days," Rodney points out. So 'big gear on shit roads' meant there were a lot of stories like that.
FRESH CHANGE
As the '80s ended and the '90s rolled in, Norgate went through some major changes. The Battle family have never been afraid to have a go, but as we all know you don't always have somewhere to land a plane and drag a bogged truck out when things go wrong.
When an unsuccessful joint venture created a major obstacle for the business, the family stuck by their name and battled on. The hurdles faced during the early '90s led to a rebranding from Norgate to Nortrans. This name change was about the only noticeable change for the clients that the Battle family had on their books at the time.
Making sure the company rebuilt seamlessly during the rebranding was paramount to Nortrans' success. Part of that was keeping up the relationships Arthur and the family had with their clients.
Nortrans dedication to their customers is evident in the long-standing partnership they have with BOC. Almost 40 years after the first one-page contract, their new contract could be used as a wheel chock, but it needs to be. Nortrans is now covering over one million square kilometres for the gas powerhouse.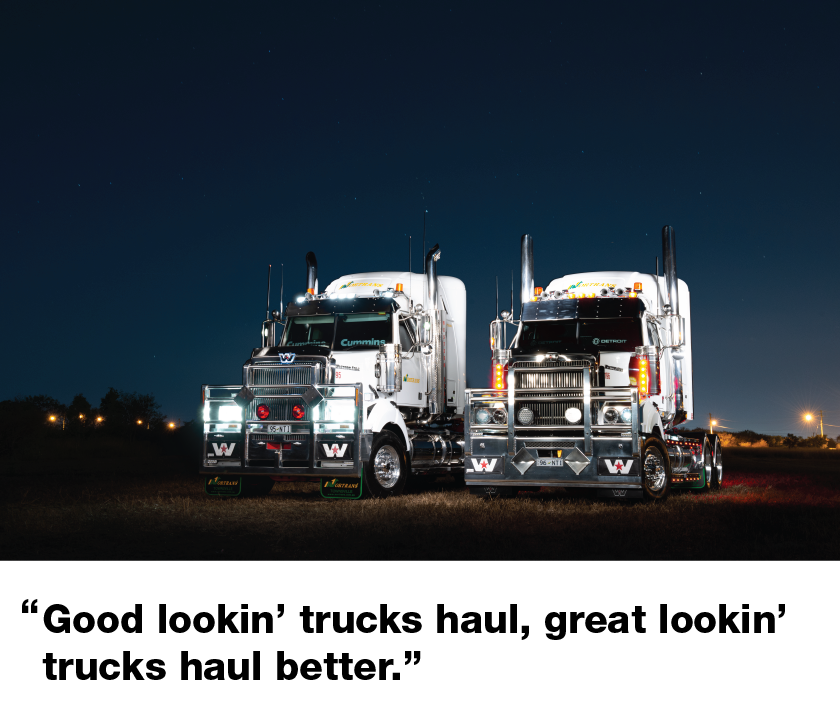 Another of their other major clients is a leader in Australia's pre-cast concrete field. The majority of that work is not your run-of-the-mill pallet freight jobs. So Nortrans created a trusting relationship built on service.
"We don't fight price wise, we fight service wise. When they ring 68 times about a job, we answer 68 times," Kent says. "We gotta be the people that they know they can ring and we'll sort it out."
Another of the important keys to the longevity of the Battle family through its ups and down is the staff they employ. Rodney is quick to tell me, "We have good people and that's a great part of our success."
While he admits there are other companies out there paying more money, he prides himself on the very low staff turnover.
During our chat about staff, a driver walks past and Rodney introduces me to Cameron. Rodney explains, "When I interviewed Cameron for a local job I asked him, 'what's your plan?' He said, 'I'm going to drive that'," Rodney recalls as he points at a picture of Nortrans' triple road train on the wall. At the time of that interview Cameron had his HR licence and got the job driving a single-axle 'round town truck. Twelve years later, when our conversation was taking place, Cameron had completed another of his regular Darwin runs in the Big Cab K108 with a triple behind it.
The company is built on history and passion. The fleet of 40 trucks is stacked with a huge variety – Western Stars, Kenworths, Freightliners … just to name a few.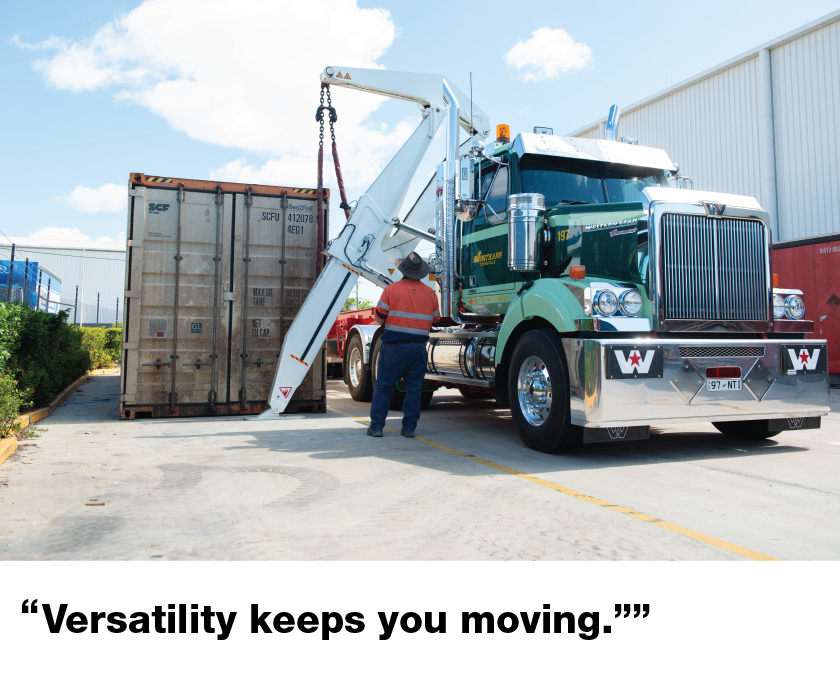 The fleet still has a few trucks on the books just for sentimental reasoning. Nortrans still possesses two C500 Kenworths. One has been in the fleet since it rolled of the production floor in 1986 while the other was sold off and repurchased with the intent of restoring to its original vintage.
"They're the only trucks dad will drive," Kent laughs. "We have all the new Western Stars and Kenworths but if dad has to drive he'll take the old C500." Rodney justifies his choice of the C500s quickly though. "It and I understand each other, we're of the same vintage."
When it comes to Kent's preferred truck, he admits he has limited time behind the wheel. His background was as a mechanic and he came into the family business through that door. Kent even recalls one of the company's legendary characters who used to say, "Rodney's pushed his spare tyre further than Kent's driven" and Ken agrees with a smile.
However, Kent's fingerprint is evident in the running of the business and most notably in the visual side. "Dad never used to have any bling, it was always green truck, green visor, green chassis," Kent jokingly tells me.
"We even bought a truck with a white bull bar and it came off and got painted green."
Kent's influence is wearing off on Rodney though. Just a touch of bling on the new trucks, mixed with the dedication of the drivers, means there's no camouflaging the Nortrans trucks these days.
So, as the Battle family approach 75 years in the industry, it's great to see the enthusiasm and passion for the job, their staff and their customers staying as fresh as Arthur's coffee would have been when he first brought the milk down from Malanda.
Quick

Order
Quick

Quote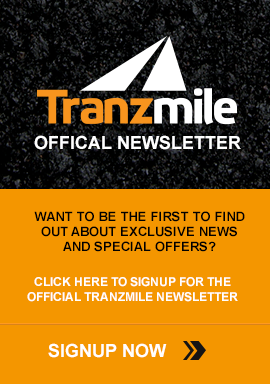 Need

Help?

For all sales enquiries

call (07) 33 444 156

or contact us